Tooth-Colored Fillings – Louisville, KY
Your Invisible Solution for Filling Cavities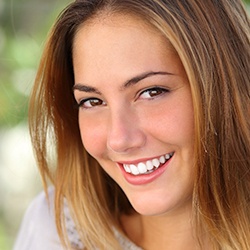 For many years, the best solution for filling a cavity was amalgam. Although durable, this metallic material leaves noticeable silvery blobs on your teeth and does not bond particularly well to your natural tooth, requiring more healthy structure to be removed. Luckily, we offer more aesthetically and environmentally friendly tooth-colored fillings at Bell Dental so that no one will be able to tell you had a cavity in the first place.
What are tooth-colored fillings made of?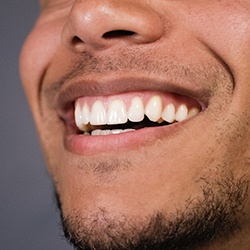 As opposed to amalgam fillings, which consists of mercury, silver, tin, and copper, tooth-colored fillings are completely metal free. They are made of a compound called composite resin, which comprises plastic and fine ceramic particles and adheres directly to your teeth's enamel. Composite resin is a flexible and biocompatible material that can be shaded to match your teeth's color, making it much more appealing choice for fillings.
What are the benefits of tooth-colored fillings?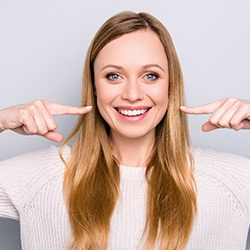 Compared to amalgam fillings, tooth-colored fillings have many advantages, including the following:
They look natural. To the untrained eye, your tooth-colored fillings blend in perfectly with your teeth.
They provide a tight seal. Because it bonds so well with your tooth, composite resin keeps bacteria out more effectively.
They protect against hot and cold sensitivity. Some patients experience sensitivity to extreme temperatures with amalgam fillings. Metal-free, tooth-colored fillings don't have this problem.
They strengthen and preserve natural tooth structure. With amalgam, more healthy tooth structure has to be removed to ensure it stays in place. But composite resin allows for more conservative treatment.
How are tooth-colored fillings placed?
When one of our dentists has found a cavity, or if you want to replace your amalgam fillings, the process of placing tooth-colored fillings goes as follows:
We will administer a local anesthetic.
Then one of our dentists will remove the decayed portions of your tooth or the amalgam filling, leaving behind clean, healthy tooth structure.
We then pick composite resin that most closely matches your tooth's coloring.
Then they place the putty-like material into your tooth and sculpt it into shape.
A special light is used to cure or harden the resin.
Then your dentist will make fine-tuning adjustments to the filling, making sure your bite feel comfortable.
In one short appointment, you can go from having a cavity to full oral health again!
What care do tooth-colored fillings need?
As with any dental work, you need to maintain it so that it lasts a long time. The good news is that tooth-colored fillings require the same care that you should give to your natural teeth: brushing and flossing daily and semiannual visits to our office for a checkup and cleaning. If you would like additional protection against future tooth decay for your teeth and fillings, you can implement the following into your lifestyle:
Using a fluoride mouthwash.
Consuming less sugar.
Drinking more water.
At Bell Dental, our team is dedicated to delivering the best treatment available for our patients, and that includes tooth-colored fillings. Come see the difference our expertise and friendly care can make for your smile. Make an appointment with us today!