Teeth Whitening – Louisville, KY
Enjoy a Whiter, Brighter Smile
Has your smile lost its luster over the years? You are not alone. In fact, tooth discoloration is a leading cosmetic concern. If you are like many Americans, you probably tried to reverse stains with over-the-counter products, like strips and mouthrinses, but you did not achieve the results you had expected. You are not out of options. You can get the dazzling smile you want using the best of the best solutions for teeth whitening in Louisville. The KOR system is a top-of-the-line treatment to turn back the hands of time.
What is KOR Whitening?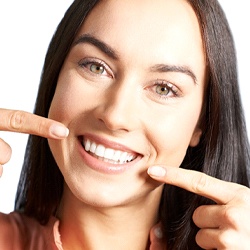 The KOR is widely recognized as "the world's most effective whitening system." It is specially formulated to produce drastic results while minimizing tooth sensitivity. It uses continuously refrigerated gels that contain a high potency of the whitening agents. They are scientifically designed using a unique application protocol to deliver exceptional results.
You can achieve in-office improvement of stains from the comfort of your own home. We will help you get a bright, beautiful smile around your own schedule with our take-home kit.
How Does KOR Whitening Work?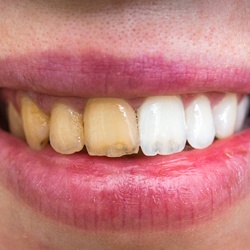 The whitening gel uses hydrogen peroxide to break down discolored molecules to reverse stains. You will achieve maximum results because the constant refrigeration ensures the gel never loses potency. By using the trays every night for about 2 weeks, your teeth will become several shades whiter with results that last.
Unlike other tray delivery systems, KOR's are specially sealed to keep saliva and sulcular fluid out. This allows them to remain effective for longer. In fact, you can get 6 to 10 hours of effectiveness when compared to similar systems, which traditionally last for 30 minutes.
What are the Benefits of KOR?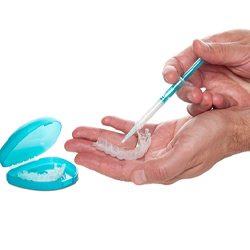 There are many whitening systems available, but KOR is a patient and dentist-preferred treatment. It offers exceptional benefits when compared to other systems, including:
High potency gel for maximum results.
Low tooth sensitivity for your comfort.
Drastic improvement to get your smile several shades whiter.
Effective for many cases, even stubborn stains.
Convenient and comfortable trays to accommodate your schedule.
Results in 2 weeks that can last for years with the right aftercare.
Consistent and predictable results to invest in a radiant smile.
Am I a Candidate for KOR?
Not all tooth stains are the same; therefore, not all are treated using the same methods. KOR is recommended for patients suffering from tetracycline stains or those who have tough cases that have not been resolved with other systems. If you want ultra-ultra white teeth, KOR may be the solution for you.
We perform an initial consultation to determine the cause of your stains and to check your oral health for any issues, like untreated cavities. Based on the results of the examination, we create the customized treatment plan you need to bring new life to your smile.
Schedule Your Consultation
If you are tired of hiding behind tooth discoloration, Bell Dental can help. We provide the professional whitening system you need to reveal a brighter smile. Contact our office today to schedule your consultation.