Partial & Full Dentures – Louisville, KY
Filling in the Gaps with Dentures
If you're missing more than tooth, you're likely already aware of how those gaps can affect the look and health of your smile. You have many restoration options available to you, all with specific benefits, but the most tried and true is dentures. As the typically least expensive tooth replacement choice, dentures in Louisville can help you regain your ability to eat and speak as well as smile with confidence.
Benefits of Dentures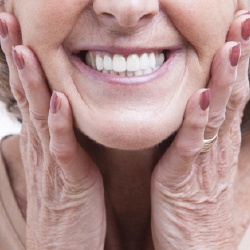 Gaps in your smile can affect more than just your smile's appearance. In fact, missing multiple teeth and not replacing them can impact your oral and overall health. For instance, fewer teeth in your mouth could cause you to chew your food insufficiently, which can lead to indigestion. Also, any remaining healthy teeth can shift to compensate for the missing teeth, potentially causing misalignment in your bite, jaw pain, and more tooth loss in the future.
As a popular restoration option, dentures have many benefits, including the following:
They look natural. Advances in materials and techniques mean that your custom-made dentures can be truly unique and appear completely natural.
They restore function. With dentures, you can bite, chew, speak, and smile the way you used to.
They are more comfortable than ever before. With dentures made specifically to fit you, they should feel comfortable.
They are typically removeable. If you get only dentures, you can easily remove them for cleaning and overnight storage.
Types of Dentures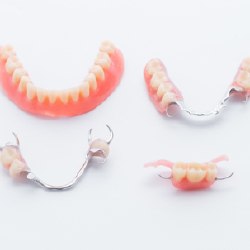 Because your mouth is unique, there isn't just one option to fit everyone. At Bell Dental, we offer three types of dentures to meet various needs: partial, full, and implant-retained. Our experienced, knowledgeable dentists can help you determine which type is most suited for your situation.
Partial Dentures
Partial dentures are a great option to replace multiple teeth, even if they aren't consecutive or near each other in the mouth. If you still have healthy teeth, partials can help you preserve what you have and restore what you're missing. This type of oral appliance is usually secured with a metal clasp.
Full Dentures
If you're missing the entire arch of teeth, full dentures may be your best restoration option. Even though you have no more natural teeth, you still need to take care of your oral health. Removeable full dentures can be easily cleaned and stored overnight, and your gums still need to be protected from harmful bacteria.
Implant-Retained Dentures
For added security and improved oral health in the long run, you could opt to have dental implants placed underneath the gumline and have your dentures attached to these posts. Implants bond to and strengthen the jaw bone, creating a firm foundation for your partial or full dentures.
Understanding the Cost of Dentures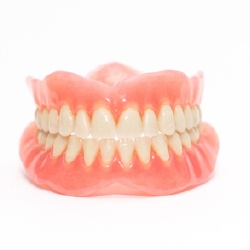 Are you ready to replace your missing teeth and regain your self-confidence? Dentures are among the most popular and cost-effective tooth replacement solutions available today. In fact, according to The Journal of Prosthetic Dentistry, nearly 40 million people currently wear full dentures! However, there are a number of factors that can influence how much it will cost to restore your unique smile. Keep reading below to obtain a better understanding of the cost of dentures in Louisville.
Factors that Affect the Cost of Dentures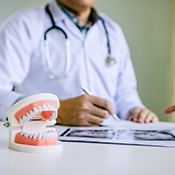 There are three major factors that influence the cost of dentures:
It's important to remember that the cheapest option for dentures is not necessarily the best route to take. When it comes to what goes in your mouth, quality matters! Dentures made from higher quality material are more likely to last longer and fit comfortably.
Are Implant Dentures More Expensive?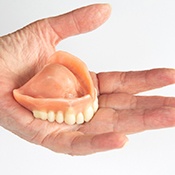 Implant dentures typically cost more upfront than traditional dentures. However, they are usually a wise investment over the long term. Because dental implants integrate directly with the jawbone, implant dentures offer maximum stability and a natural appearance than their traditional counterparts just cannot match. Individuals with implant dentures can eat their favorite foods without worry and speak and laugh with full confidence. In addition, dental implants can last for decades with proper care! Traditional dentures, meanwhile, typically must be replaced every 5 to 7 years.
Does Dental Insurance Cover Dentures?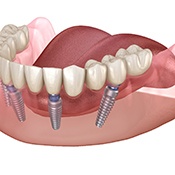 Most dental insurance plans cover around 50% of the cost of dentures. However, every plan is different, so be sure to check with your insurance provider before making any final decisions. If you would like assistance understanding your insurance coverage, do not hesitate to reach out to our knowledgeable team! We are always happy to help patients understand their policies and maximize their insurance benefits.
Other Options for Making Dentures Affordable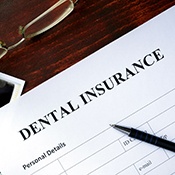 At Bell Dental, we are committed to ensuring all our patients have access to affordable dentures in Louisville. That is why we are proud to offer an in-house membership plan for patients who do not have dental insurance. For one low annual fee, you can receive exceptional preventive dental care and qualify for discounts on restorative services like dentures.
To learn more about these and other options for making dentures affordable, schedule a consultation at our Louisville office.