Emergency Dentist - Louisville, KY
Are You in Dental Pain? Call Us Now!
How to Handle Common Dental Emergencies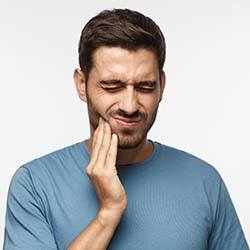 If you have heavy, continuous oral bleeding or a possibly broken jaw, please go to your nearest emergency room for assistance. Our team can then provide patients from Louisville, KY and surrounding areas with any needed restorative care after they've healed from the initial trauma.
For any other dental emergencies, we are here to help. Emergencies typically fall into two categories: infection that happens over time and an injury or trauma to the face. Contact our office right away if you're in pain, but in the meantime, you can use these tips for handling some of the most common dental emergencies:
Dental Emergency FAQs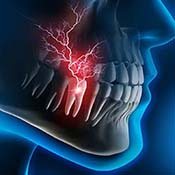 Dental emergencies often occur without any warning and when you least expect it. If you have a sudden toothache or another dental issue interrupt your day, you're sure to have several questions. Your emergency dentist in Louisville will take the time to explain your treatment process and address your concerns. While you wait for your appointment, here are the answers to a few of the most common questions we hear to put your worries to rest.
Can I wait to see my dentist?
No one has time in their day for an unplanned trip to their dentist. It's tempting to wait until you have time in your schedule an appointment. Unfortunately, if you wait too long to have a dental emergency treated, you might lose your tooth. It's best to see your dentist as soon as possible. Our office uses the latest technologies and methods to streamline your care because we know your time is valuable. Our flexible office hours also accommodate your busy schedule to ensure you get the care you need promptly.
Should I go to the emergency room?
When a dental emergency strikes, you might think the best place to go is the hospital; however, unless you have a medical issue or suspect a broken jaw, you need to call your dentist. Emergency rooms aren't equipped to diagnose or treat dental problems. At most, they can prescribe antibiotics or pain relievers, but they can't address the underlying concern. Instead, you need to call your dentist to get the quick care you need to restore a healthy smile.
Can I use my dental insurance?
Although every policy differs, most dental insurance plans will cover an emergency visit. You can also use your coverage to pay a portion of the cost of your treatment. We will work on your behalf with your insurance carrier to file the necessary claims and forms to lower the amount you need to pay out-of-pocket. We will explain any remaining balance and discuss your payment options, like using third-party financing with CareCredit.
Can I prevent a dental emergency?
You can't fully prevent a dental emergency, but there are several things you can do to reduce your risk of one, such as:
Brush your teeth at least twice a day for 2 minutes each session.
Floss in between each tooth before going to bed.
Visit your dentist at least twice a year for a cleaning and checkup.
Wear an athletic mouthguard if you play sports.
Don't use your teeth as tools.
Don't chew on inedible objects.
Don't chew on overly hard foods.
Where is an emergency dentist near me?
If you need an emergency dentist, look no further. Bell Dental provides the same day care you need. We'll get to the root cause of the issue and create a personalized treatment plan to stop your pain and save your tooth. We'll help you through the difficult time, so you can get back to enjoying your day.