Emergency Dentistry - Louisville, KY
Are You in Dental Pain? Call Us Now!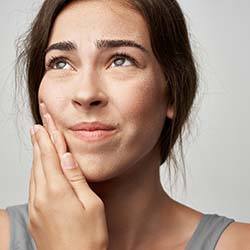 Dental emergencies tend to happen suddenly, and at the most inconvenient times to boot. If you or a family member is suffering from significant dental pain or damage, having to wait for relief can be an enormous burden. That's why our team strives to provide emergency attention as soon as we possibly can.
If you're a patient of record, please contact us even if the practice is currently closed. We can also offer you valuable information and guidance over the phone for how to best manage your condition until we're able to see you in person.
How to Handle Common Dental Emergencies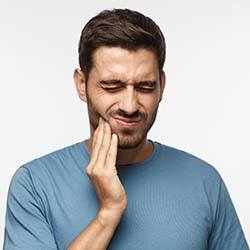 If you have heavy, continuous oral bleeding or a possibly broken jaw, please go to your nearest emergency room for assistance. Our team can then provide patients from Louisville, KY and surrounding areas with any needed restorative care after they've healed from the initial trauma.
For any other dental emergencies, we are here to help. Emergencies typically fall into two categories: infection that happens over time and an injury or trauma to the face. Contact our office right away if you're in pain, but in the meantime, you can use these tips for handling some of the most common dental emergencies:
Toothaches
A painful toothache may indicate tooth infection. Call the office right away to schedule a same-day appointment with our emergency dentist in Louisville. Root canal therapy may be required to remove the infection and preserve the tooth.
Chipped/Broken Tooth
If you chip or crack your tooth, pick up the pieces and rinse them because we may be able to repair it at our office. However, it's possible that your tooth is damaged to a point that requires extraction. Until you can come in for a visit, apply a cold compress to the outside of your mouth to ease swelling and take over-the-counter pain medication. Be sure not to apply medication directly to the affected area.
Knocked-Out Tooth
If a tooth has been knocked out, touch only the crown and not the root of the tooth. Rinse in cold water and then try to place the tooth back in its socket on your way to our office. Alternatively, the tooth can be transported in a sealed container filled with milk.
Lost Filling/Crown
A lost filling or crown may be temporarily held in place with denture cream, petroleum jelly or dental cement. These materials can be found at your local drugstore, and the sooner that you protect your tooth, the better your chances are of minimizing pain and sensitivity.
How to Prevent Dental Emergencies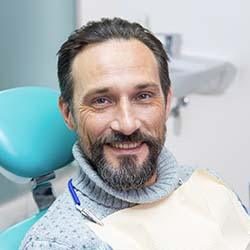 Dental implants can never be completely avoided, however, one simple thing that you can do to protect all of the smiles in your family is insist that an athletic sportsguard be worn during play and practice. We can create a custom-fitted sportsguard that fits comfortably in your mouth to protect teeth, gums, cheeks and lips while you concentrate on your game. So, while the staff at Bell Dental is here to help when you have a dental emergency, we'd really much rather not see you because trouble was averted with a sportsguard! You can also practice a good at-home oral healthcare routine and visit our office regularly to ensure that you and your family's teeth are as healthy as possible.
The Cost of Treating Dental Emergencies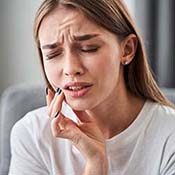 Because the types of treatments for dental emergencies can range, the cost can vary greatly. Some emergencies may only require antibiotics, while others may need more extensive restoration. The only way to know the cost of your dental issue is to come into our office for an examination. After a careful look at your mouth and some possible X-Rays, we will be able to provide you with a fair and precise estimate.
Root Canal Therapy
If you have a tooth causing you pain from decay or an infection, your emergency dentist can give you the relief you need with a root canal. Now, root canals are less painful, so you have nothing to fear. After extracting the pulp, we fit you with a custom-made crown. Your tooth's health, function, and appearance are restored to save your smile and stop your pain.