Preventive Dentist - Louisville, KY
Keeping Teeth Fresh & Clean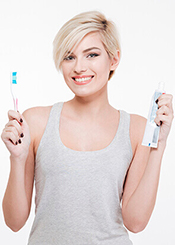 Maintaining great oral health for life is possible with the right professional care and hygiene routine at home. At Bell Dental, our team hopes that you'll turn to us for the skilled support you need. Dr. Kenneth Bell and Dr. Steven Kaebnick offer several preventive services designed to not only diagnose and treat damage, but also guard against the very possibility of it for your safety and comfort. We look forward to helping you smile brightly as the years pass by! Contact our practice today to schedule your first visit.
Dental Check-ups & Cleanings
Proper brushing and flossing goes a long way, but there are some potential dental concerns that only professionals can help you with. During your routine check-ups and cleanings every six months, our doctors make it a priority to fully understand the inner workings of your smile, inspecting teeth, gums, existing restorations, and much more for any signs of decay or damage. Once we have this information at our disposal, we start working with you to develop a personalized treatment plan that addresses your needs and improves your smile to its ideal state.
Dental cleanings from one of our excellent hygienists are also necessary in the pursuit of long-term oral health and happiness. The sticky, bacteria-filled substance known as plaque is constantly forming in your mouth, causing decay and gum disease if left untreated for too long. We'll get rid of these dangerous build-ups and polish teeth.
Learn More About Checkups And Cleanings
Periodontal Treatment
Do any of these symptoms sound familiar?
Excessive bad breath
Overly red/swollen/tender gum tissue
Bleeding gums
Painful chewing
Teeth that feel looser or overly sensitive
Teeth that appear longer over time
All of these are common indications that a patient is suffering from periodontal disease (also known as gum disease). This condition is one of the most common health problems in the world, affecting over 75% of the adult population in the United States alone – many of whom don't even realize it! This happens because periodontal disease is often subtle in its early stages, only to cause considerable infection, tissue deterioration, and even tooth loss later on. At Bell Dental, we take this threat extremely seriously, and our doctors will always screen for the condition during routine check-ups. If needed, we provide root scaling and planing, antibiotic therapy, soft tissue laser treatment, and other periodontal treatments designed to eliminate bacteria and restore health to the hurting smiles of patients from Shivley and surrounding areas.
Learn More About Periodontal Therapy
Soft Tissue Laser Dentistry
Instead of relying on traditional tools, our Louisville, KY team is happy to offer state-of-the-art soft tissue laser treatment for our valued patients. This technology allows our doctors to treat problematic areas more precisely providing instant sterilization and minimizing the presence of bacteria. Sutures usually aren't needed, and the natural tissue can regenerate faster for a speedier recovery process. In fact, most patients are so comfortable throughout their care that anesthesia isn't even needed.
Dr. Bell and Dr. Kaebnick provide several procedures with the valuable aid of soft tissue lasers. These include:
Periodontal disease treatment
Crown lengthening
Gum recontouring
Nightguards for TMJ/Bruxism Therapy
Bruxism (more commonly known as teeth grinding/clenching) is a common habit among adults who experience considerable stress in their everyday lives. In most cases, it actually manifests while the patient is sleeping, which means they're unaware of their condition and helpless to do anything to stop it on their own. Without professional intervention, this can lead to painful headaches, inexplicable dental damage, and even the development of TMJ disorder over time.
At Bell Dental, our doctors keep a close eye out for the tell-tale signs of bruxism during regular appointments. If we determine that your smile is in need of protection, we provide a customized nightguard to do the job well. Patients simply need to wear the device as they sleep, giving their vulnerable teeth and jaw joints the safety they need.
Dental Sealants
There are certain areas of the mouth that can be tricky to keep clean over time, especially the deep chewing grooves that develop in back teeth. If your family is in need of extra protection, our team can place dental sealants over these teeth, reducing the accumulation of food and bacteria and minimizing the risk of cavities forming. The application process is simple and painless. Plus, patients can enjoy them for 10 years or more with the right homecare and professional maintenance.
Oral Cancer Screenings
Oral cancer is a dangerous and sometimes deadly condition, with tens of thousands of new cases being diagnosed every year. Patients undergo successful treatment, but the reality is that most people aren't diagnosed until the disease has already reached an advanced stage, lessening their chances of recovery significantly. At Bell Dental, we make oral cancer screenings a vital part of your regular check-ups. If our doctors locate potentially cancerous areas within the mouth, they help you take the next steps towards a successful biopsy and diagnosis as soon as possible, potentially saving your life in the process.
Digital X-Rays
Traditionally, X-rays were captured on film and developed slowly with hazardous chemicals in a darkroom. Today, digital technology has improved and simplified this process for the better, and we're happy to offer it here at our modern facility. Our team members capture and transfer exceptionally detailed images of your smile to our computer system within seconds, allowing is to color-code them, magnify them, and more for educational purposes. They can be electronically transferred and stored, which makes them more environmentally friendly. Best of all, patients are exposed to a significantly reduced amount of radiation.
Athletic Sportsguards
When participating in your favorite sport, it's common to wear gear that protects your head, elbows, or knees – but what your smile? Dr. Bell and Dr. Kaebnick provide athletic patients a customized sportsguard that fits comfortably and securely in the mouth creating a solid barrier for vulnerable teeth.