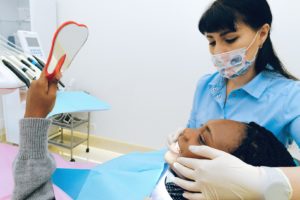 Over the years, there have been several innovations in dentistry to repair damaged teeth; however, dental crowns are still the most common restorative procedure. The custom-made caps can restore the health, function, and integrity of a tooth. While they have over a 93% success rate, metal crowns are often a source of embarrassment for many people because they can stick out like a sore thumb. Thankfully, you have another option. Modern crowns are made of all-ceramic material to look like a real tooth. Even if your restoration isn't failing, here are 4 reasons to consider replacing a metal crown.
1. You'll Look Younger
When someone spots a metal restoration in your mouth, they instantly know you are older because they are considered an outdated treatment. Nowadays, it's uncommon for metals to be used. Instead, they are typically made of porcelain or ceramic, so they can be customized to match the color, size, and shape of your real teeth. No one will know it isn't natural because it will blend in with your smile.
2. Less Tooth Sensitivity
Many people with older restorations report experiencing sensitivity to hot or cold drinks. If this sounds familiar, you aren't imagining things. Metal is a known conductor of heat. Therefore, when you take a sip of your morning coffee or indulge in a bowl of ice cream, the temperature change will get conducted down to your tooth, which can lead to sudden pain. The only time you'll experience tooth sensitivity with an all-ceramic crown is immediately after it has been placed, but it will subside within a day or two.
3. Better Oral Health
Metal restorations are safe and effective, but they have some disadvantages, too. Many crowns are made of noble metals, such as gold and silver. As a result, they don't always react well with our bodies and can lead to irritation from an allergic reaction. This is not uncommon with nickel, which can also cause your gums to turn green. Modern restorations don't contain any metals. They are biocompatible, so they are perfect for people who have metal sensitivities.
4. Lower Your Risk of Decay
A crown encompasses the entire surface of your tooth above the gumline. Not only does it cover your tooth, but possible complications that can occur over time, like decay. When metal crowns are removed, many dentists discover decay hiding underneath them, even when a patient isn't experiencing any symptoms. Metal-free crowns tend to cause less decay to avoid irreversible damage to your tooth.
Enjoy a Healthy, Beautiful Smile
Don't let a metal crown be the focal point of your smile. Invest in a durable solution that looks and feels natural.
About Dr. Kenneth Bell
Dr. Bell earned his dental degree from the University of Louisville School of Dentistry. He regularly continues his training to provide advanced services. He strives to preserve, enhance, and beautify his patients' smiles. If you're interested in replacing an old metal filling or crown, contact our office today to schedule your consultation.