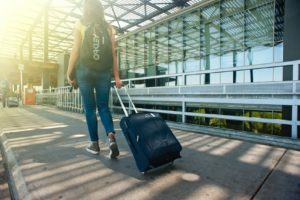 Summer is here, which means it's time to book your dream vacation. As you plan for your trip, the last thing you're thinking about is your dental health; however, it's best to keep your smile a priority even while you're away from home. You don't want simple mistakes to leave a lasting mark on your teeth and gums. Here are 5 summer oral health tips to follow to keep your smile healthy.
1. Visit your dentist to avoid dental emergencies.
Although there's never a good time for one to occur, a dental emergency can cause your travel plans to go downhill quickly. While you may not believe you're at risk, 1 in 6 Americans requires urgent dental care each year. You can help avoid an unexpected oral health problem by visiting your dentist for a cleaning and checkup before you leave. They'll ensure there aren't any untreated issues that might turn into a dental emergency during your trip.
2. Pack an oral hygiene kit.
When you're not at home, it's easy to stray from your daily routine, but you don't want to skip brushing and flossing. Create a small kit containing necessary dental products to make it easier to care for your smile. Even if you're at the airport waiting for your connecting flight, you can still brush and floss to keep your teeth and gums healthy.
3. Choose your foods wisely.
You'll be surrounded by many delicious meals and tasty treats, but don't forget to limit your consumption of sugars and starches. It's best to choose healthy, nutritious foods; however, if you can't ignore your sweet tooth, brush your teeth well afterward.
4. Chew sugarless gum.
Relieving air pressure during your flight isn't the only reason to reach for a piece of gum. Chewing sugarless gum increases your saliva production. As a result, it will help keep your mouth clean in between brushing and flossing. Your saliva helps remove food particles, bacteria, and plaque that can harm your smile.
5. Drink plenty of water.
As you spend time at the beach or hanging out by the pool, don't forget to drink plenty of water. You'll stay hydrated to beat the heat while also keeping your mouth moist to reduce bacteria growth. Drinking water will also help keep your teeth and gums clean. If you'll be traveling to another country, you may want to consider using bottled water until you learn more about their public water system.
Enjoy a Beautiful Summer Smile
You can look and feel your best by committing to your dental health during your vacation. You can make new memories while feeling positive about your smile.
About Dr. Kenneth Bell
Dr. Bell earned his dental degree from the University of Louisville School of Dentistry. He maintains the highest standard of care to provide modern services using the latest advancements in dentistry. As a member of the Kentucky Dental Association, you can feel confident your smile is in good hands. Contact our office today to schedule an appointment.