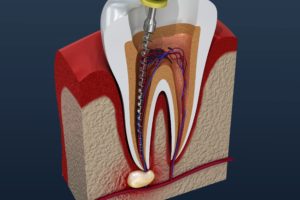 If your dentist has recently recommended a root canal, you might be tempted to delay the treatment because your life is busy. You don't have any time in your schedule for a lengthy dental procedure. Unfortunately, if you wait too long, you might lose your tooth. Instead, it's better to have it treated as soon as possible. Don't worry, your dentist understands your time is valuable. Here's how long you can expect root canal therapy to take, so you can get back to more important matters.
What is Root Canal Therapy?
A root canal is the most common restorative procedure performed in the U.S.; however, it's only recommended when there aren't any other viable solutions to save a tooth. The endodontic treatment extracts the innermost layer called the pulp. The tooth is sterilized before being sealed with a special material called gutta-percha. A dental crown is often placed over the tooth to protect it from additional damage, while also reinstating its function and appearance.
How Long Does a Root Canal Take?
There isn't any way to determine how long your procedure will take without first having a consultation. The duration of the average root canal is about 90 minutes, but there are several factors that influence the length of your appointment, such as:
Anesthesia: To ensure you're comfortable, your dentist will use a local anesthetic to numb the tooth. In some cases, sedation may also be recommended. Some anesthetics take effect more quickly than others, which will affect how long you're in the dental chair.
Root Canals: Certain teeth have a different number of root chambers, each of which will need to be cleaned thoroughly. Your dentist must identify each one to ensure a successful procedure. If a tooth has more than one canal, like the molars, you can expect the procedure to take longer than for one that only has a single chamber.
Disinfection: After the inner layer of the tooth has been removed, it must be disinfected. This process can take about 40 minutes to ensure it has been properly sterilized.
Besides the root canal, you'll also need a dental crown which is a protective cap bonded over the entire surface of the tooth above the gum line. Your dentist will take an impression of your mouth after completing your root canal. The mold is necessary to create your crown. It will be sent to an off-site dental lab where it's crafted to match your specifications. It can take a couple of weeks, so you'll need to return to your dentist for a second appointment once the dental lab has sent it back to their office.
Your dentist will use the latest technologies to streamline to process, so you can get back to your daily responsibilities quickly.
About Dr. Kenneth Bell
Dr. Kenneth Bell earned his dental degree from The University of Louisville School of Dentistry. He regularly continues his training to offer advanced treatments, like root canal therapy. If you have a problematic tooth, contact our office today to schedule your consultation.