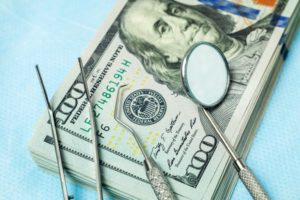 Are you looking for ways to save money? A common first step is to cancel appointments and skip certain services that you think you can forgo for the time being. Unfortunately, this often includes preventive dental care. After all, why spend time and money on getting a dental checkup if your teeth look and feel fine? The reality is, even if it doesn't seem like anything is wrong with your oral health, skipping your regular dental appointments can cost you much more in the long run! Here are four ways routine dental checkups and cleanings can help save you money.
1.) Spot & Stop Issues as Early as Possible
Unfortunately, most oral health issues can easily develop without you feeling or seeing them. If you skip your dental checkups, you're not likely to notice problems like cavities, gum disease, teeth grinding, enamel erosion, or oral cancer until they begin to cause damage or discomfort. Visiting your dentist twice a year is the best way to spot and stop issues while they're small and more affordable to treat.
2.) Save Money on Cosmetic Treatments
Do you love to drink coffee or tea? Do you eat a lot of acidic foods or chew on hard objects? These habits are some of the most common culprits behind stained, chipped, and cracked teeth. Instead of spending money on cosmetic treatments like teeth whitening or porcelain veneers, you can keep your smile sparkling and strong with biannual dental cleanings and preventive care.
3.) Avoid Expensive Dental Emergencies
Dental emergencies that require complex treatments like root canal therapy, extractions, or dental crowns can be quite expensive. While not every damaged or painful tooth can be prevented, you can lower your risk with regular dental checkups. Your dentist can help identify early warning signs of problems or areas of your smile that are more vulnerable, then provide personalized care to help keep your smile safe.
4.) Spend Less on Overall Healthcare Costs
Did you know the wellbeing of your teeth and gums influences your overall health? Researchers have discovered that oral health conditions can significantly increase a person's risk of systemic health problems like diabetes, respiratory infections, and heart disease. In fact, recent studies indicate that those with poor oral health pay more for cardiovascular care than those with healthy teeth and gums.
There are plenty of reasons why routine dental checkups are good for both your smile and your wallet. If you're still concerned about the cost of getting the dental care you need, don't hesitate to talk to your dentist about which dental insurance they accept and what financing options are available.
About the Practice
At Bell Dental, we strive to make achieving optimal oral health an affordable goal for all the smiles of Louisville and the surrounding communities. We offer in-network coverage for most major PPO dental benefit plans and are happy to file and process claims for every insurance plan. Our talented and experienced team will always make sure you're maximizing your benefits and minimizing your out-of-pocket expenses. In addition, we're proud to offer financing through CareCredit as well as a patient membership plan to help make your treatment as affordable as possible. To learn more about your options, feel free to contact us via our website or at (502) 749-2355.