Gum Recontouring – Louisville, KY
Achieve a Perfectly Balanced Smile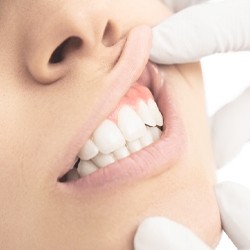 Do your teeth appear to be small or short when you smile? Do your gums hide too much of your teeth? Having a "gummy" smile can throw off the visual balance that takes your appearance and confidence to the next level. Thankfully, at Bell Dental, our team offers gum recontouring, which is also called crown lengthening. This simple procedure can give you what nature hasn't provided—a well-balanced smile and teeth that are able to support restorations. Could your smile benefit from gum recontouring? Contact us and schedule an appointment today!
What Is Gum Recontouring?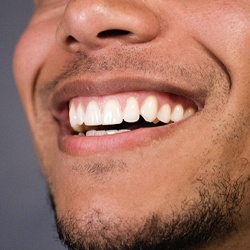 If you have excess gum tissue that covers up more surface of the crowns than is necessary, you likely have what is termed a "gummy" smile. Gum recontouring or crown lengthening removes this extra gum tissue to expose more tooth structure beneath it. This procedure is mainly used for cosmetic purposes, but it can also help in restorative work on damaged teeth that require more exposed tooth surface to be properly fixed.
Who Is a Good Candidate for Gum Recontouring?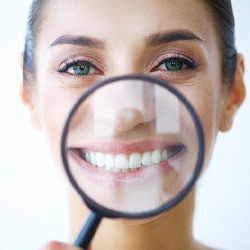 Anyone with too much gum tissue in their gum-to-teeth ratio may want to consider gum recontouring. In this simple procedure, we make slight alterations to the gum line, allowing you to have a more prominent set of teeth.
Not only can crown lengthening help those who want to make cosmetic changes, but it can also be necessary for patients who need a filling or crown but don't have sufficient tooth structure above the gumline to support the restoration.
In order to qualify for this cosmetic procedure you need to have healthy gums and teeth. This means no cavities, gum disease, or other problem present. If we discover an issue, we can quickly address it. In some cases, gum recontouring may be necessary as part of the restorative process, enabling us to place a dental crown or filling.
What Is the Process Like for Gum Recontouring?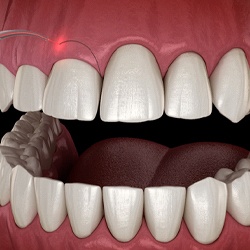 Before we jump right into treatment, we will first need to perform an examination of your smile. This procedure involves making permanent changes to the gumline, so we want to make sure that your smile can really benefit and that more of the crown structure is beneath the gum tissue to expose.
After you and our team have determined that gum recontouring is right for your smile, we will use a remove small slivers of excess gum tissue. In the past, this process was performed with a scalpel and sutures, but we utilize some of the most advanced technology available—a dental laser. With this instrument, we can sever the gum tissue without the use of anesthesia, with little to no bleeding or pain, and with shorter recovery.