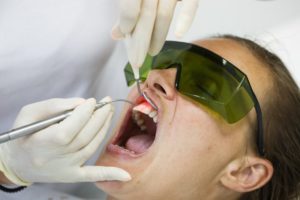 The winter season always has its fair share of sick family members, friends and coworkers. But did you know that the cold virus can travel through lesions on the body that would otherwise be harmless? Cold sores are not a serious problem; they often disappear on their own without treatment. However, they can still act as an open door for bacteria, especially if you live with other people.
Most people wouldn't think to visit a dentist to get their cold sore removed. However, the same laser therapy they use for gum treatments can be used for cold sores as well! Instead of putting yourself at risk, consider scheduling time with an emergency dentist in Louisville to get your cold sore zapped!
What are Cold Sores?
Cold sores, also known as herpetic lesions, are blisters that usually appear on the lips or around the mouth. They are directly caused by the herpes simplex virus, which can enter the body through a number of ways. Those around you can catch the virus by touching the cold sore directly or by coming into contact with the saliva infected with the virus. For example, sharing utensils with loved ones or kissing someone can cause the virus to spread.
What are the Symptoms?
The most common symptoms include a tingling or itching sensation around the mouth or lips, sore throat, fever and swollen glands inside your neck or in other areas of the body. Once the cold sores have fully appeared, they will begin to break open and leak, then heal over time. Cold sores can take anywhere from several days to two weeks to fully go away without treatment, however they can still be quite painful for some individuals.
How Do Cold Sores Typically Get Treated?
The most common treatments for cold sores include oils, creams and medication specifically designed to reduce the side effects. However, these treatments only mitigate the symptoms and encourage healing; they don't outright remove the cold sore. That's where laser therapy comes in.
Why Should You Consider Laser Cold Sore Removal?
If you intend to pursue laser therapy from a dentist, it's important that you schedule a visit as soon as you start to notice the early signs (tingling or itching sensation.) However, those who have full-blown cold sores can also receive treatment to quicken the healing process. While the cold sores you get won't go away permanently after treatment, laser therapy can work to shorten the overall healing process. It can also reduce the number of cold sores that appear throughout your life.
Additionally, using laser therapy to remove cold sores is:
Affordable
More effective at killing the virus causing the sore
Ideal for preventing your current cold sore from worsening
A good solution to preventing more serious sores later
Quick and requires no anesthesia
The herpes simplex virus does not go away, but that doesn't mean you have to deal with the pain and inconvenience of cold sores. Schedule an appointment with a dentist to get your laser therapy in Louisville performed today!
About the Author
Dr. Kenneth Bell earned his DMD degree from the University of Louisville School of Dentistry. He's fully trained to perform laser dental therapy for a variety of purposes, including cold sore removal, gum reshaping, and breaking down bacteria. To learn more about his practice, you can contact him through his website.